By now, it's no secret that CBD has the potential to make you feel better.
Growing research has shown that CBD may help individuals with inflammation, sleep troubles, anxiety, and a wide range of other issues, and the evidence keeps growing.
But we're not the only ones who can benefit from it: cats and dogs can feel the effects of CBD, too!
However, giving CBD oil to your pets isn't as simple as lending them some of your own drops, because it's important that your furry family member is getting the optimal dosage, and you'll also want to ensure that all of the ingredients are safe for them.
Luckily, more brands are offering options specifically formulated for cats and dogs, but where to start?
Keep reading to learn our top 10 CBD oils for cats and dogs.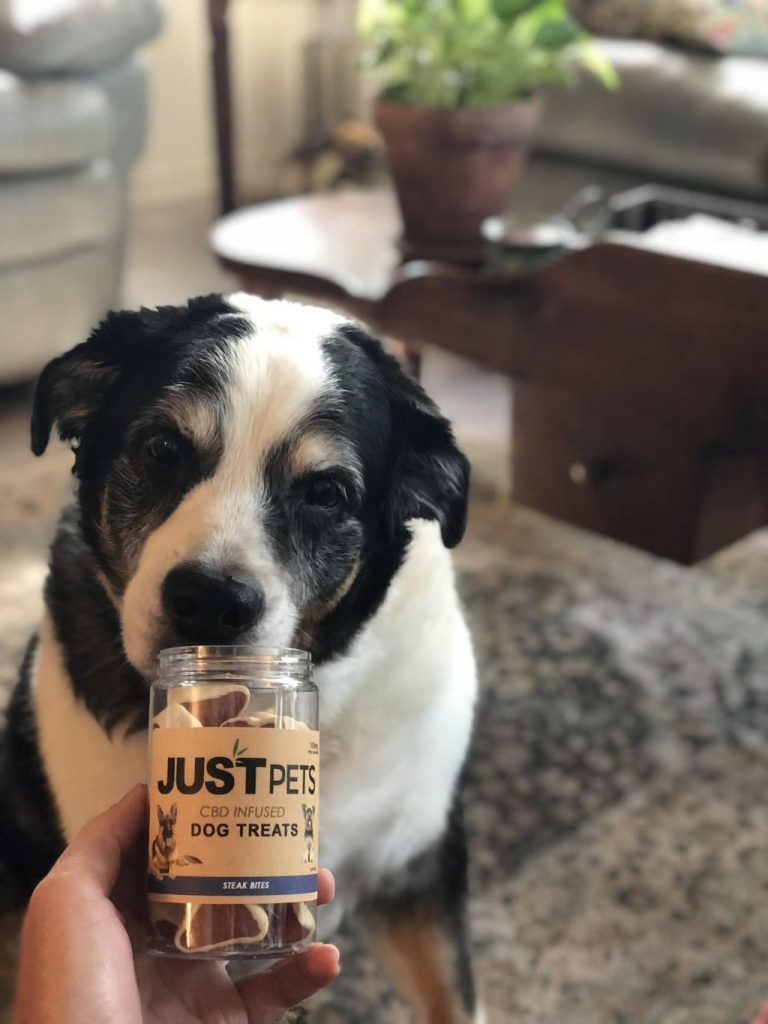 1.) Charlotte's Web CBD for Dogs
Charlotte's Web might be one of the best-known CBD brands in the world, and it's great to see them come out with a CBD line for your furry friends; although at least for now, this only includes dogs.
This canine-oriented CBD line is made with the same rigorous care and proprietary hemp strain as their human version.
Charlotte's Web's CBD products for dogs are generally marketed for the benefit of your best friend's joints and chronic pain, as well as for soothing their stressed-out nerves.
In addition to CBD oils, Charlotte's Web also makes a variety of treats and balms, all made specifically for your dog's comfort and your peace of mind.
And they test their products through an independent lab, just as they would for any member of your family, and they offer certificates of analysis upon request.
Price: $59.99
CBD Oil Range: Charlotte's Web currently offers their CBD Oil for Dogs in just one potency: 17 mg/mL in a 30 mL bottle (approximately 500 mg), but the dropper included makes it easy to add up on the dosage.
2.) Honest Paws
Sometimes, we want specialists; i.e.; brands that focus only on CBD products for your four-legged friends, and Honest Paws is one of the most dependable brands you can choose.
From the moment you enter their site, you know that the people at Honest Paws care about your pets, and feature a reel of testimonials from fur babies everywhere that's frequently updated to attest to their results.
And they make the shopping experience easy on their humans, too, by streamlining their products by concern: calmness, mobility, pain relief, and wellness.
And best of all is their formulas, which include the same caliber of Colorado-grown hemp, processed through CO2 extraction, just as you'd expect in the best CBD oils everywhere. Their CBD oil blends are always organic, non-GMO, and soy-free, so you know your pet's only getting the best.
Price: $39.95-$44.95
CBD Range: Honest Paws offers each of their CBD oil for cats in one potency: 125 mg of CBD per 30 mL bottle, and they offer their CBD oil for dogs in a range of 3 potencies to accommodate their size range, plus an extra-strength 1000 mg option:
● Small (0-25 lbs): 125 mg
● Medium (25-50 lbs): 250 mg
● Large (over 50 lbs): 500 mg
3.) Green Roads
Green Roads is already one of our favorite CBD brands for humans, so we were thrilled to see that this pharmacist-founded company branched out to pets.
Currently, Green Roads offers CBD oils for both cats and dogs, and whether it's your anxious feline or your senior canine, these CBD oils may offer the support and relief they've been waiting for. These CBD oils are also fantastic for those occasional stressors, like fireworks on 4th of July, or annual trips to the vet.
Green Roads formulates their CBD oils for pets with a blend of MCT oil and hemp seed oil, combined with broad-spectrum cannabinoid extract, which is derived from industrial hemp.
Price: $19.99-$59.99
CBD Range: Greend Roads' CBD oil comes in one strength of 60 mg for cats, and they offer a range of 3 strengths for dogs, but the weight range is unspecified:
● Small: 60 mg
● Medium: 210 mg
● Large: 60 mg
4.) Medterra
Medterra's founded on the passion for ingredients that come from the earth to promote a healthy lifestyle, and they apply this philosophy to us and our pets.
Medterra offers a line of CBD products for pets, all using the same high-quality cannabinoids you'd find in your own CBD, made from Kentucky-grown industrial hemp, which is processed through CO2 extraction.
Medterra's highly respected for their transparency, and their products are usually third-party tested by either Green Specific or Pro Verde Labs, and you can easily access their test results with a quick QR scan.
Plus, their CBD oil for tinctures come in flavors that your four-legged friend will love, including chicken and beef.
Price: $19.99-$39.99
CBD Range: 150-750 mg
5.) Populum
Populum is a brand known for not only its aesthetically pleasing packaging, but also for quality CBD at a price that's approachable for most beginners, and they've successfully incorporated CBD oils and treats just for our furry friends, but made with the same caliber and attention of a human-oriented CBD product.
Their CBD comes in 2 strengths, but their simple guidelines make it easy to customize the right dosage for your cat or dog:
● 0-25 lbs = ½ dropper
● 25-60 lbs = 1-2 droppers
● Over 60 lbs= 2-4 droppers
Populum's CBD oil for pets is made with simple, consciously-selected ingredients, including grape seed oil, hemp seed oil, and coconut oil, and as with all Populum products, this CBD oil for pets comes with a 30-day risk-free trial, and offer a nice discount for monthly subscribers.
Price: $32-$54
CBD Range: 100 or 250 mg
6.) JustCBD
While JustCBD's only been in the market for a couple of years now, their growth as a company has been tremendous, yet they continue to produce consistently quality hemp, even on a larger scale.
And this caliber of care has transferred over to their line of CBD oils for cats & dogs.
While JustCBD offers treats more tailored to species, their CBD oils come as a versatile blend that you can use on either pet, and simply adjust accordingly.
JustCBD offers their CBD tinctures for pets in a range of three strengths: 125 mg, 250 mg and 500 mg, and come in the following flavors:
● Bacon
● Beef
● Chicken
● Salmon
● Tuna
Price: $17.99-$49.99
CBD Range: 125 mg, 250 mg, 500 mg
7.) CBDFX
CBDFX is one of the most reputable brands out there, and you'll love their transparency; not only for your own CBD needs, but for furry friends as well with their CBD oils for cats and dogs.
CBDFX's tinctures are made with the same love and care as their human lines, and just like all of their product, these CBD oils are derived from pure, organic, non-GMO hemp, which is processed through CO2 extractions, which is a clean, solvent-free extraction method.
Plus, they leave out the cheap fillers and leave only ingredients that'll serve your pet, and only incorporates quality ingredients. In fact, all you'll find in this CBD oil is the aforementioned hemp, and nourishing coconut oil.
Price: $29.99-$69.99
CBD Range: Currently, CBDFX offers their pet-friendly CBD oils in the following strengths:
● For Cats and Small Dog Breeds=150 mg
● For Medium Dog Breeds=300 mg
● For Large Dog Breeds=600 mg
8.) Re Botanicals
If you need something simple and straightforward for your pet, Re Botanicals delivers on high-quality hemp suitable for all your furry friends' CBD needs.
Re Botanicals formulates their tinctures for pets with the same US-grown, organic industrial hemp, which is extracted through the cleanest methods available, with the utilization of CO2.
And while this brand of CBD oil contains only 1 strength of 300 mg, this CBD oil yields 10 mg per 1 mL drop, making it easy to adjust based on your pet's needs or your vet's recommendations.
Price: $29.99
CBD Range: 300 mg
9.) CBDistillery
CBDistillery is dedicated to giving their customers non-addictive ways to make them feel better, whether they're on two legs or four.
CBDistillery makes their CBD oils for pets with the aerial parts of full-spectrum industrial hemp, which they carefully and meticulously develop under the guidelines set by the FDA.
And of course, they always third-party tested for quality, so you never have to worry about whether you're giving your pet a quality product. And for added transparency, all lab tests are accessible through the QR scanner on each label.
Whether it's for chronic anxiety, joint support, or just to offer some calmness during thunderstorms, CBDistillery gives both Fido and Fluffy the relief they deserve.
Price: $30-$44
CBD Range: 150-600 mg
10.) Petly
Petly CBD is a brand that was started by two dog dads who wanted to create the best CBD that their four-legged friends could have access to.
Petly specializes in CBD oil just for cats and dogs, and while they do use solvents instead of CO2 extraction, but they use food-grade ethanol, which is safe for your pets and eliminates even the slightest bit of residual chlorophyll, creating the purest hemp extract available to your pets.
On top of that, they use only organic farming methods for cultivating their industrial hemp, and extracted through their own proprietary distillation methods. The result is a potent, full-spectrum CBD oil with all of the naturally occurring phytocannabinoids, terpenes and flavonoids your cat or dog will benefit from.
Petly only uses two ingredients to produce their CBD oil for cats and dogs: broad-spectrum hemp extract and MCT coconut oil.
Price: $49.99-$89.99
CBD Range: Petly offers their CBD oil for cats in one strength of 125 mg, and they offer their CBD oil for dogs in a range of 3 potencies:
● Small (0-25 lbs): 125 mg
● Medium (25-50 lbs): 250 mg
● Large (over 50 lbs): 500 mg